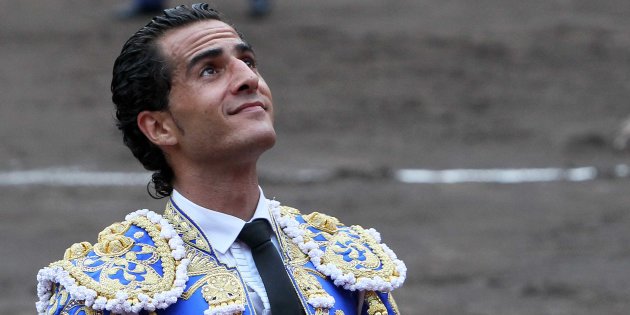 The afternoon turned from Ivan Fandiño
Came the long-awaited start of season in Bullring Las Ventas and started out with lockers. Ivan Fandiño came to pray with his crew and support staff ¨novilleros¨, confident in having a full of emotions to confront the six bulls waiting in the back of the Plaza.
Ivan Fandiño opened the season bullring Las Ventas 2015 Madrid
The bullfighter had received the first bull, but noticed missing courage in their caste, however ended the run with ovation from the stands. Nonconformity in his expression was noted as well that upon receiving the second bull, dealt in a more daring way so that the public would not see, however cattle provided an afternoon of ups and downs which had an intermittent tension.
Fandiño didn't worry wake up the bold instinct bulls, so it was more provocative, doing a show getting better until the entry of the fifth bull, who after receiving the flags, hurt the bullfighter in the arm and chest but in lidia movement fortunately the injuries were not important, so he could continue with the show, but the bull again showed the power of his sane drunk at the time to receive the final blow, jumped slightly to his bullfighter Ivan Fandino, and produced a scratch that, rather than wound was a moment of tension unfortunate.
A very special evening bullfight
For many fans of the bulls, the inaugural event of the 2015 season was very special because of unexpected movements in the afternoon such as the unexpected entrance of bullfighter from Cordoba, Andrés Jiménez Piña, famous as the Gallo Chico novillero, not was part of the gang but was in the stands as a spectator, used the celebration that was giving the public the picador Israel Pedro after the entry of the third bull to enter the arena, take a crutch estoca and approach the bull but his attempt was unsuccessful because two members of the gang managed to stop him a few yards from his goal.
Immediately proceeded to his expulsion from the ring and went directly to the national police to hand over the intruder, and that it can be directed toward the outside of Las Ventas in Madrid.
At the moment why this entered abruptly when the race was in full development is unknown, but presumably is due to their longing for providing a presentation on that stage, and that previously had succeeded twice, the first was an ovation with three notices, and otherwise in its second presentation won two silences, all developed three years ago.
Bbuy official tickets at our website madridbullfighting.com