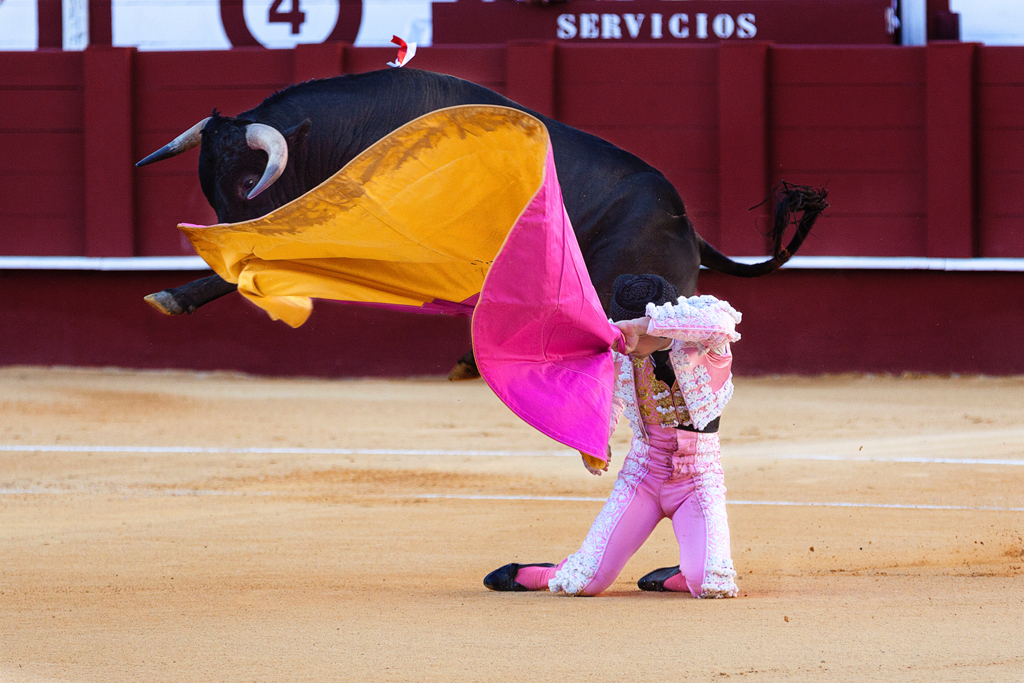 Bullfighting Schools in Spain
Until very recently, if a person wanted to be a torero or matador, there was no formal training process or bullfighting school to make their dream a reality. Even in the 1970s, it was not unusual in Spain to see random young men jump the wall into the bullring during a fight to show off and prove to the spectators that they had the bravery and skill necessary to be a great bullfighter. Some celebrated toreros, the select few, began their careers in this very way. But today, for better or worse, this is no longer how youths get their first taste of being in the arena.
The first official institution created in Spain for the training of young aspiring bullfighters was the Escuela de Tauromaquia de Sevilla. The tauromachy academy was founded in 1830 and had the distinction of being headed by the legendary torero Pedro Romero, although well after his retirement from the profession, at age 76. Unfortunately, due to controversy surrounding its funding, the school was shut down in 1834.
Bullfighting schools in Andalucía
E.T. de Sevilla may have been the first academy, but it certainly wasn't the last. Currently, 24 bullfighting schools are operating in the region of Andalusia, belonging to the Asociación Andaluz de Escuelas Taurinas Pedro Romero, named for the same torero who was head teacher at the original Seville Academy. This includes 8 academies in Seville and 5 in Cádiz. More complete information can be found on the association's website, www.escuelastaurinasandaluzas.com, although the site is only available in Spanish.
Official schools belonging to the association are:
Escuela Taurina de Algeciras

Escuela Taurina de Almeria

Escuela Taurina de Atarfe

Escuela Taurina de Baeza

Escuela Taurina de Baza

Escuela Taurina de Camas

Escuela Taurina de Campo de Gibraltar

Escuela Taurina de Chiclana

Escuela Taurina de Córdoba

Escuela Taurina de Ecija

Escuela Taurina de Granada

Escuela Taurina de Jaen

Escuela Taurina de Jerez

Escuela Taurina de La Algaba

Escuela Taurina de La Linea

Escuela Taurina de Lucena

Escuela Taurina de Málaga

Escuela Taurina de Motril

Escuela Taurina de Puerto de Santa María

Escuela Taurina de Ronda

Escuela Taurina de San Fernando

Escuela Taurina de Sevilla

Escuela Taurina de Sevilla-Amate

Escuela Taurina de Ubrique
Bullfighting school in Madrid
Today, Madrid's only bullfighting academy is the Escuela de Tauromaquia de Madrid. Located in the Casa de Campo suburb of Madrid, it also called the Escuela José Cubero "Yiyo" or Escuela de Tauromaquia Marcial Lalanda, and is associated with the capital city's famed Plaza de Toros Las Ventas. This bullring is easily the most renowned in Spain and possibly in the entire world. In fact, a local idiom in Madrid for someone being successful is to say that they "walked out the main door of Las Ventas".
Until a few years ago, the Madrid bullfighting school received a subsidy from public municipal funds designated for the promotion of culture and sport in the city. However, in 2015, the city's mayor, Manuela Carmena, announced that she would discontinue the subsidy because the practice was incompatible with the defense of animal welfare. Another reason presented was that the subsidy – approximately €61,000 annually — was disproportionate to the small number of students, which at the time was less than 40.
Even so, the city government has dedicated several hundred thousand euros to renovate Las Ventas, intending to use the space for other cultural and sporting activities.
Other bullfighting schools in Spain
The vast majority of the world's toreo schools are located in the Andalucía region of Spain. Apart from those 24 academies and the famous school in Madrid at Las Ventas, Spain is home to:
Escuela de Tauromaquia de Valencia (Valencia)

Escola Taurina de Catalunya (Barcelona)

Escuela Taurina de Salamanca (Salamanca)

Escuela Taurina de Albacete (Albacete)

Escuela Taurina de Alicante (Alicante)
In total, El País reports that there are currently 50 bullfighting academies in Spain, plus 10 more schools throughout France, Portugal, Mexico and Colombia, with a combined total of some 1200 students.
Preteens and adolescents attend bullfighting school after their regular studies, with a typical starting time around 5:00 p.m. The average age of students is around 17 years old, although students as young as 12 can be found at some schools.
The benefits of a formal academy with standardized training in a controlled environment might seem obvious to an outsider, but there are some connoisseurs of bullfighting who argue that the toreros who come from official schools lack personality in their performance. According to them, graduates all fight using a uniform style that makes them unremarkable and boring to watch.
Apart from this criticism, today's bullfighting schools face an uncertain future due to shifts in cultural values and societal sensitivities. With the anti-bullfighting movement growing more vocal and the sport becoming highly politicized, there is a lot of pressure on provincial and local governments to withdraw public funding. "Andalusia is the only region that openly sets aside €100,000 of its budget," according to the president of the Asociación Andaluz. The schools can only hope that the dreams and passions of the youth will keep their doors open.