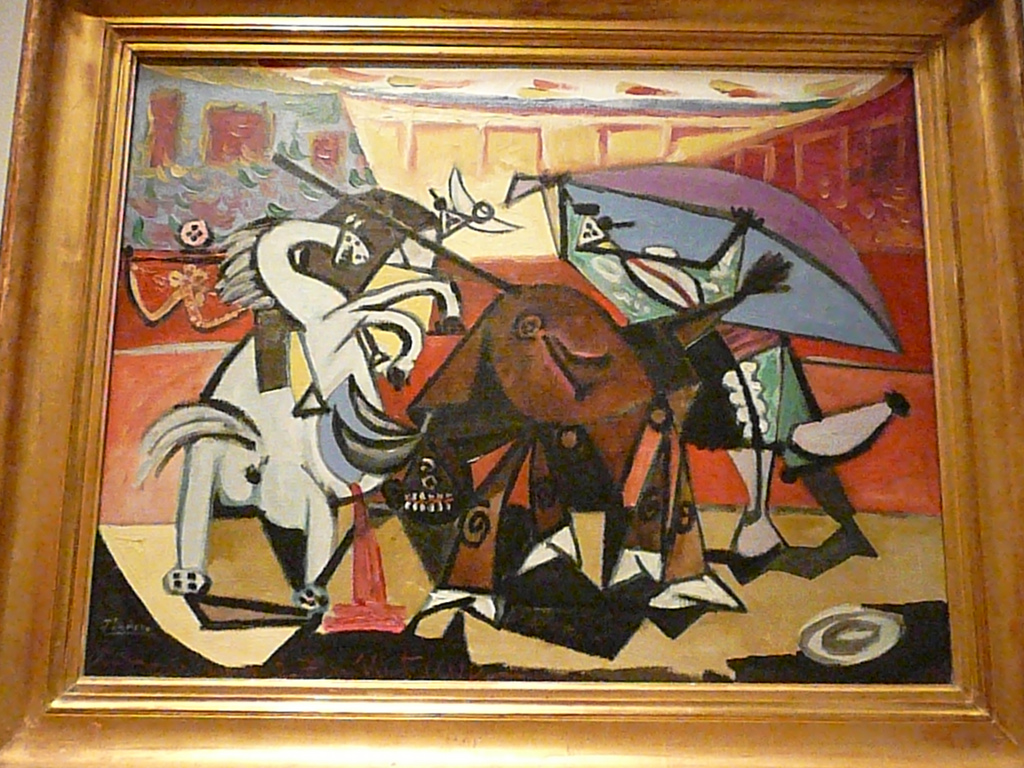 "Every act of creation is first of all an act of destruction."
Although Pablo Picasso may not have been speaking about bullfighting specifically when he said these words, they do seem appropriate in this context. And, given that the artist is evidently referring to art in general with this quote, and as bullfighting is considered by its fans to be more art than sport, it fits quite nicely. Picasso often spoke about his passions being the driving force in his art and life, and one of those passions was bullfighting.
The artist's passion for bulls began during his childhood, and numerous references to bullfighting can be found in his work and book illustrations. The contest between man and beast, and, on the other hand, the internal conflict of man-as-beast, appears frequently in Picasso's prints, sketches, paintings and other art media. As a series, these works of art often weave together to form a very complex story. As the artist said, "If there were only one truth, you couldn't paint a hundred canvases on the same theme." For Picasso, bullfighting was art, passion, culture, identity, drama, and masculinity.
Bulls and bullfights in Picasso's art
Some of the artist's best works related to the world of bullfighting include:
Portrait de Paul en torero, 1925. A painting of the artist's son, Paul, as a young child, dressed in the traditional costume of a bullfighter or torero, holding the iconic red cape in one hand. In the background, the viewer can make out the subtle outline of a bullring arena.
Le taureau, 1949. The bull. A sketch of a bull in profile view, in a style that is unmistakably Picasso.
La Corrida, 1955. An ink depiction featuring three of the main characters in the spectacle that is tauromachy – matador, picador, and bull—and transmitting a sense of the emotion and action that Picasso no doubt experienced as he watched a fight unfold in the bull ring.
Tête de taureau, 1956. The face of a bull in silver. One of twenty-four individual designs done in silver or gold with the assistance of the Hugo brothers in France, master goldsmiths and descendants of author Victor Hugo.
Citando al toro con la capa, 1957. Provoking the bull with the cape, an aquatint from a copperplate print.
Taureau devant le picador, 1959. Bull in front of the picador.
La cogida, 1959.
Los cabestros retiran al toro manso, 1959.
Salto con la garrocha, 1959.
Le Picador, 1964. This work is an example of Picasso's tendency to create and recreate. Having famously said that trying to copy oneself is pathetic (as opposed to copying others, which is necessary), this is a composite of a print from a plate made in 1959, painted over, completely transforming it in the process.
Books illustrated by Picasso which include references to bullfighting:
Carnet de la tauromáquia, with text by bullfighter José Delagdo, 1936
A los toros con Picasso, with introductory text by Jaume Sabartés, 1961
Toros y Toreros by Luis Miguel Dominguín, 1961
Carmen des Carmen by Prosper Mérimeé, 1964
In 1983, Geneva publisher Patrick Cramer published a catalogue of books illustrated by Picasso, which can be consulted in the library at the Museu Picasso in Barcelona.
Picasso and bullfighting in the 21st century
Some of the oldest artistic endeavors of mankind have involved bulls and man's fight for survival over beasts. And, in fact, the Paleolithic paintings in the Lascaux cave complex in France and other primitive art were deeply influential to Picasso. Strong affinities exist between his bullfighting series and the Lascaux cave paintings. Upon exiting the caves, he is reported to have said, "We have learned nothing in twelve thousand years."
Moving into the 21st century, the most recent traveling exhibits of Picasso's taurino works include:
Picasso. Bullfighting. Works from the collection of the Museu Picasso, Barcelona. 2012, Tel Aviv.
Picasso: La Tauromàquia. 2013, Fundació Suñol, Barcelona.
Picasso: Minotaurs and Matadors. 2017, Gagosian, London.
Much of his work can also be seen at the Museu Picasso in Barcelona and at the Museo Reina Sofia in Madrid.
At the same time, in 2017, one street artist who goes by the name Sam3 used Pablo Picasso's most iconic painting Guernica as a form of anti-bullfighting protest. It is difficult to say what the original artist would have to say on the matter. On the one hand, Sam3's work is very much in the spirit of Picasso, who has famously said that good artists copy, and great artists steal. Another relevant quote of his is: "Painting is not made to decorate apartments. It's an offensive and defensive weapon against the enemy." However, considering Picasso's utter passion for bullfighting, it is possible he would not like to see his work used by the anti-bullfighting movement. It is still unclear whether the Guernica recreation will be allowed to stay on the 14-meter-tall bull, owned by the Osborne company.